Model MD-5C41 Thin Proximity Sensor for Steel Pachinko Balls (Open Collector Output / 12 / 15 VDC )
Application
Single or level detection of steel pachinko balls
Detection of medals and coins or their level detection
Features
Flat type proximity sensor (top surface detection type) exclusively for steel pachinko balls with a thickness of 4 mm (ultra-thin type) that can be used in common with the power supply 12 / 15 V DC.
The 2-wire sensor requires an external output residual voltage processing circuit and an open collector output conversion circuit (interface IC, etc.).
Since this sensor has these circuits built-in, the cost of the external circuit of the sensor can be significantly reduced. In addition, since this sensor has an open collector output, High / Low logic processing is possible, and it can be directly connected as an input signal of 30V DC or less.
Since the C-cut shape is used for the main body case, it is possible to prevent incorrect installation orientation.
Features a keyway on the case side for an easy installation in one touch.
Since the operation mode is normally closed, disconnection detection processing can be easily performed.
International Standards
Our products do not have overseas safety regulations such as CE mark, UL standard, EN standard etc.
Products is compliant to the RoHS directive.
* Please consult about "change of specification" and "request of specification" of the product.
Rating / Performance
Rating/Performance
Model
MD-5C41
Detection Surface
Upper side detection
Detection Distance
Steel Pachinko ball 5.0 ± 0.5 mm (4.5 to 5.5 mm)
Hysteresis
0.1 to 1.5 mm
Standard Detection Object
Steel Pachinko ball (ø 11 ± 0.05 mm)
Power Voltage
12 V / 15 V DC (Operating voltage range : 10.8 V to 16.5 V DC)
Power Consumption
12 mA DC or less
Output
NPN transistor open collector 30 V DC, 20 mA DC or less
Output Residual Voltage
1 V DC or less (Load current 20 mA DC)
Operation Status
Normally closed
(Output ON without detection / Output OFF when target is detected)
Response Frequency
100 Hz or more
Temperature Range
-20 to 70 °C (-25 to 70 °C during storage)
(Without dew condensation or freezing)
Humidity Range
35 to 85 % RH (35 to 85 % RH during storage) (Without dew condensation)
Breakdown Voltage
500 V AC, 50/60 Hz for 1 min (Between live parts and casing)
Insulation Resistance
50 MΩ or more, at 500 V DC megger (Between live parts and casing)
Vibration Resistance
Durability : 10 to 55 Hz, Double amplitude: 1.5 mm in X-, Y-, and Z-direction, each 2 hours (Device not powered)
Shock Resistance
Durability : 200 m/s² (Approx. 20 G) in X-, Y-, and Z-direction, each 3 times (Device not powered)
Anti-static Electricity
15kV Between the detection surface and the GND of the 1st terminal of the connector (C=150 PF, Discharge resistance : 330 Ω)
Ingress Protection
IP50
Case Material
Case : ABS resin with glass (Black), Cover : PC (Transparent)
Connector
Connector : DF14A-3P-1.25H(26)(3-pin) (from HIROSE ELECTRIC CO., LTD.)
[Connections] Housing : DF14-3S-1.25C, Contact : DF14-2628SCF
(from HIROSE ELECTRIC CO., LTD.)
Weight
Approx. 3.2 g
Options
(Sold Separately)
Connector harness : CNH-DF1403S26-300
Dimensions/Connector Harness/Output Circuit
Dimensions
Connector Harness (Sold Separately)
Output Circuit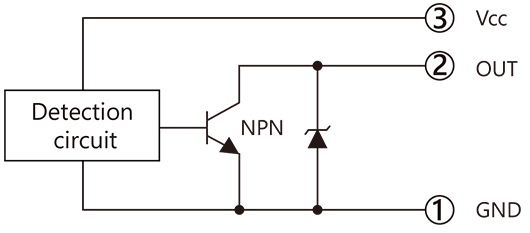 *Because there is no reverse connection protection diode built-in, pay careful attention to the polarity of the power supply.
Precautions During Use
Influence by Surrounding Metals
Do not place metal around the proximity switch (Within 30 mm from the detection surface and within 15 mm from the back of the detection surface, or within 10 mm for the side surface from one direction and within 15 mm for the side surface from two directions.)
Otherwise, the detection distance may increase or other malfunctions may occur.
Mutual Interference
When two or more identical sensors are used, observe the minimum values shown in the figure below to prevent mutual interference.
(The different frequency model type has "B" at the end of its model designation.)

Installation
Others
Please note that this proximity sensor can detect steel pachinko balls, but not SUS pachinko balls.
Use "Model: MD-5C4S1" to detect SUS pachinko balls.
When detecting pachinko balls one by one, keep them at least 30 mm apart. In addition, the range of output operation time varies depending on the passing position, passing distance, passing speed, ball material, and parallelism of the medal surface with respect to the sensor detection surface.
Do not drop a detector such as a pachinko ball or medal directly on the detection surface.The internal ferrite core may be damaged by impact, and the sensor may deteriorate or fail. Also, do not directly hit or pass a detector such as a pachinko ball or medal against the detection surface of the sensor. Be sure to install an indirect materials (plastic, etc.) between the detector and the detection surface of the sensor for detection.
Be sure to insert and remove the connector horizontally. If you insert or remove it at an angle, it may cause terminal deformation, case damage, or poor contact.
Quote / Order
Quote / Order
Please contact our sales.