Model EICW-12H1520 Switching type inclination sensor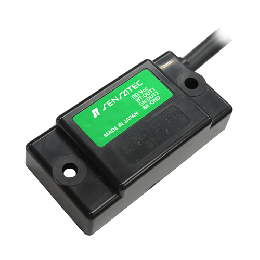 Application
(Movement in case of theft) anomaly detection of vehicle
Inclination detection of agricultural equipment
Security of mechanical instrumentsutions
Features
This sensor detects the tilt angle ± 15 °.

For open-drain output, can directly input to the microcomputer, etc. without the need for a special

interface circuit.

Because it is IP67 protection structure, you can also use in places where water splashes.
Resistant to irradiated electromagnetism thanks to its internal shield.
Supports water-proof connectors.
International Standards
Our products do not have overseas safety regulations such as CE mark, UL standard, EN standard etc.
Products is compliant to the RoHS directive.
* Please consult about "change of specification" and "request of specification" of the product.
Rating and performance
Rating and performance
Model name
EICW-12H1520
EICW-12H15201

Detection inclination

range

±15° or ±20°
Output deviation

±1.5 ° at the time of detection inclination ±15 °

±2.0 ° at the time of detection inclination ±20 °

Power supply voltage
12 V to 24 V DC (Operating voltage range: 9 V to 30 V DC)
Power consumption
DC 15 mA or less
Output
DC 30 V DC 1 A or less Nch MOSFET open drain
Output residual voltage
DC 1 V or less (DC 1 A)
Operation configuration
Normally open
(On at detection inclination angle)
Normally closed
(Off at detection inclination angle)
Response time
1 s or less (Step response, and by placing the 90% arrival time),
but 2 s or less at power-up

Operating temperature

range

-20 to 70 °C (-25 to 75 °C during storage)

Operating humidity

range

35 to 95% RH (35 to 95% RH during storage)
Withstand voltage
1 min at AC 500 V 50/60 Hz (between the live part and installation part)
Insulation resistance
100 MΩ or more measured with an ohmmeter at DC 500 V
(between the live part and installation part)
Vibration resistance
Durability: 2 hours in each X, Y, Z direction at 10 to 55 Hz and with peak-to-peak amplitude of 1.5 mm (at power off)
Shock resistance
Durability: 3 times at 1000 m/s² (approx. 100 G) in each X, Y, Z direction
(at power off)
Protection rating
IP67
Case material
ABS
Cable
ø6.6, 4-core round cord of 0.5 mm² (VCTF) and 1 m in length
Weight
Approx. 91g
*For a detailed specification of the other, please refer to specifications.
External dimensions diagram/Output circuit/Detection direction
External dimensions diagram
Output circuit
Detection direction
Usage precautions
Usage precautions
Please do not have a large impact on the product.

A power supply reset circuit is built in. Therefore, the sensor does not trigger even at an angle higher

than the detection inclination angle during approximately 2 seconds after power-up.

Please note that even below the detection angle of inclination because there are children that detected by

the acceleration and shock.

See Inclination sensors general usage precautions for other precautions.
*After you have put an item in your shopping cart, choose either [Quote] or [Order].
*For customized products or specifications, contact us using "Inquiry."
*Choose the currency from JPY, USD, or EUR.
Model Name
Output configuration
Standard Price
Inventory Type
Select
EICW-12H1520
Normally open

7,490 JPY

69 USD

59 EUR

STD

EICW-12H15201
Normally closed

7,490 JPY

69 USD

59 EUR

STD
STD Shipping is available immediately (on the day of order)
WIP Shipping is available within 1 to 3 weeks
BTO Shipping is available within 4 to 10 weeks
NOTE: The above information shows the typical delivery time. For actual delivery time, please confirm us as it depends on our business days and/or product quantities.
In the case of the quote request and order, please be sure to check the Terms and Conditions.
If you have made the procedure of quote request and order, it assumes that agree to the Terms and Conditions.