Model MDS-X25C Ultra-high Sensitive Proximity Sensor
Application
Steel plate detection
Detection of coins
Slot medal detection
Detection of medals level
Detection of pachinko balls
Detection of pachinko balls level
Features
Economical and easy to use open collector output proximity sensor.
External light, dirt and dust do not affect operation.
Perfect for metal and other detections such as pachinko balls, medals and level detection with its long detection distance.
The different frequency type MDS-X25CB is also available to prevent interference when two sensors are installed together.
International Standards
Our products do not have overseas safety regulations such as CE mark, UL standard, EN standard etc.
Products is compliant to the RoHS directive.
* Please consult about "change of specification" and "request of specification" of the product.
Rating/Performance
Rating / Performance
Model
MDS-X25C
MDS-X251C
Detection Surface
Upper side detection
Detection Distance
25 mm
Hysteresis
0.1 mm or more
Standard Detection
Target
Steel plate of 100 × 100 mm and 1 mm in thickness
Power Supply Voltage
5 V to 24 V DC (Operating voltage range : 4.5 V to 26.4 V DC)
Power Consumption
2 mA DC or less
Output
30 V DC 70 mA DC or less Nch MOSFET open drain
Operation Configuration
Normally open
(On output with detection target)
Normally closed
(Off output with detection target)
Operation Display
Red LED (Lit when no detection)
Response Frequency
100 Hz or more
Operating Temperature
Range
-10 to 50 °C (Without dew condensation or freezing)
Operating Humidity
Range
35 to 85% RH (Without dew condensation)
Protection Rating
IP50
Case Material
ABS
Connector
Connector: S3B-PH-K-S (3-pin)(from J.S.T. Mfg. Co., Ltd.)
[Connections]Housing: PHR-3
Contact: SPH-002T-P0.5 (from J.S.T. Mfg. Co., Ltd.)
Weight
Approx. 35 g
Options
(Sold Separately)
Connector harness : CNH-PHR03S24-300
*For a detailed specification of the other, please refer to specifications.
External Dimensions Diagram/Connector Harness/Output Circuit
External Dimensions Diagram
Connector Harness (Sold Separately)

Output Circuit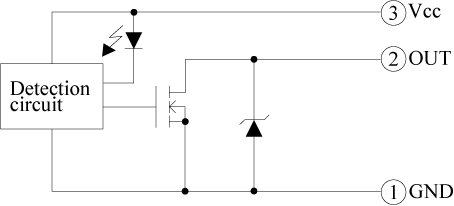 Usage Precautions
Influence of Surrounding Metal
If there are metal objects around the proximity sensor, leave at least the space indicated in the figure below between them and the sensor.
Mutual Interference
If you use two or more of the same product, separate them at least by the distances shown in the figure below to prevent reciprocal interference.
(Sensors with a different frequency are indicated with a B after the model name.)
Installation
Always use plain washers to tighten the case and use a torque of 0.5 N.m or less.
Other
See proximity sensor general usage precautions for other precautions.
Reference Values
Reference Values
*After you have put an item in your shopping cart, choose either [Quote] or [Order].
*For customized products or specifications, contact us using "Inquiry."
*Choose the currency from JPY, USD, or EUR.
Model Name
Output configuration
Frequency
Standard Price
Inventory Type
Select
MDS-X25C
Normally open
Normal type

2,670 JPY

23 USD

21 EUR

STD

MDS-X25CB
Normally open
Different frequency type

2,670 JPY

23 USD

21 EUR

BTO

MDS-X251C
Normally closed
Normal type

2,670 JPY

23 USD

21 EUR

STD

MDS-X251CB
Normally closed
Different frequency type

2,670 JPY

23 USD

21 EUR

BTO
STD Shipping is available immediately (on the day of order)
WIP Shipping is available within 1 to 3 weeks
BTO Shipping is available within 10 to 18 weeks
NOTE: The above information shows the typical delivery time. For actual delivery time, please confirm us as it depends on our business days and/or product quantities.
In the case of the quote request and order, please be sure to check the Terms and Conditions.
If you have made the procedure of quote request and order, it assumes that agree to the Terms and Conditions.