Model MDS-H12CD-02  2-channel Dual Reversible Counter Sensor For Steel Pachinko Balls
Application
Counting in steel pachinko ball dispensers or counting bills (currency).
Features
Can accurately count up and down the number of steel pachinko balls coming continuously.
The count remains accurate even when steel pachinko balls passing or remaining inside the sensor vibrate or move in the opposite direction.
A multiple-sensor can be installed side-by-side making it possible to count lots of balls in a short time.
A different frequency type is also available to prevent interference in multiple-sensor installations.
A normally closed type is also available to detect errors such as harness poor connection or cable disconnection.
International Standards
Our products do not have overseas safety regulations such as CE mark, UL standard, EN standard etc.
Products is compliant to the RoHS directive.
* Please consult about "change of specification" and "request of specification" of the product.
Rating / Performance
Rating / Performance
Model
MDS-H12CD-02
MDS-H12CD-021
Detection Distance
3.8 to 6.8 mm
Hysteresis
0.1 mm to 1.0 mm
Standard Detection
Target
Steel pachinko ball (ø11 ± 0.05 mm)
Power Supply Voltage
12 V to 24 V DC (Operating voltage range: 9.6 V to 28.8 V DC)
Power Consumption
25 mA DC or less
Output
NPN transistor open collector (Four-output)30 V DC 50 mA DC or less
Operation Configuration
"L" output with detection target
(Normally open)
"H" output when no detection target
(Normally closed)
Resolving Power
Can detect balls coming continuously
Response Frequency
100Hz or more
Operating Temperature
Range
-10 to 60 °C (-25 to 65 °C during storage)
(Without dew condensation or freezing)
Operating Humidity
Range
35 to 85% RH (25 to 85% RH during storage)(Without dew condensation)
Vibration Resistance
Durability: 2 hours in each X, Y, Z direction at 10 to 55 Hz and with durability vibration of 10 G (At power off)
Shock Resistance
Durability: 3 times at 1000 m/s² (approx. 100 G) in each X, Y, Z direction
(At power off)
Screw Tightening Torque
51.9 to 77.4 Ncm
Circuit Protection
With a protection diode against reverse connection to the power supply
Static Electricity
Resistance
±15 kV between the ball pass-through opening and GND (C = 150 pF, R = 330 Ω)
Protection Rating
IP50
Case Material
ABS
Connector
Connector:B6B-ZR-SM4-TF(6-pin)(from J.S.T.Mfg.Co.,Ltd.)
[Connections]Housing:ZHR-6,Contact:SZH-002T-P0.5(from J.S.T.Mfg.Co.,Ltd.)
Weight
Approx. 14 g
Options
(Sold Separately)
Connector harness : CNH-ZHR06S28-300
External Dimensions Diagram / Output Circuit /Connector Harness(Sold Separately)
External Dimensions Diagram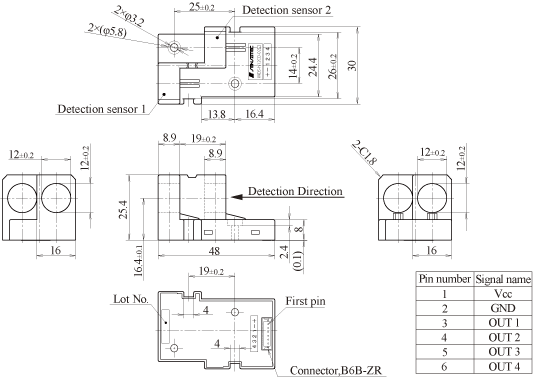 Output Circuit
Connector Harness(Sold Separately)
Usage Precautions
Influence of Surrounding Metal
When installing metal around the proximity sensor, leave space as shown in the figure below. However, metal cannot be installed in all directions, but in one direction only. Contact is possible in case of steel pachinko balls.
*The detection range varies by ±10% or less when metal is 1.2 mm in thickness, has an area larger than the part surface, and is separated by 4 mm or more from each side.
*Note that only one ball can be in contact.
Mutual Interference
If you install two or more sensors laterally, use standard products and products with a different frequency alternately to prevent interference. If you use products with the same frequency, separate them at least by the distances shown in the figure below.
When two or more sensors with the same frequency are installed facing together, use them as shown in the figure below to prevent interference.
Precautions During Use
Ensure to use the sensor after thorough prior evaluations including the operation check, performance check, and reliability check with the sensor incorporated in your product.
Be sure to contact us first if the product is being considered for use in an application which requires extremely high reliability, where its breakage, malfunction, or operation can be reasonably expected to be, directly or indirectly, a significant threat to human life, or can cause injury, or damage to property, including, but not limited to medical equipment, automobiles, aerospace vehicle instruments, nuclear power control equipment or other equipment or instruments. In normal use, be sure to provide safety measures to avoid secondary disasters to ensure the safe operation of the entire system.
Avoid use and/or storage of the product in a place where it can be exposed to the following; chemical solutions and corrosive gas; abrupt temperature changes; direct sunlight; vibration or shock. Dew condensation or freezing may affect the product performance.
Other
Please note that this proximity sensor can detect steel pachinko balls, but not SUS pachinko balls.
Contact us for detection of SUS pachinko balls.
See proximity sensor general usage precautions for other precautions.
*For a detailed specification of the other, please refer to specifications.
Quote / Order
Quote / Order
Please contact our sales.